Expanding Go Service
to Hamilton
As Metrolinx expands GO services through the region, connectivity between Hamilton and Toronto is being strengthened. Commuters will see drastically reduced ride times across the Greater Toronto Hamilton Area (GTHA) as new upgrades are implemented.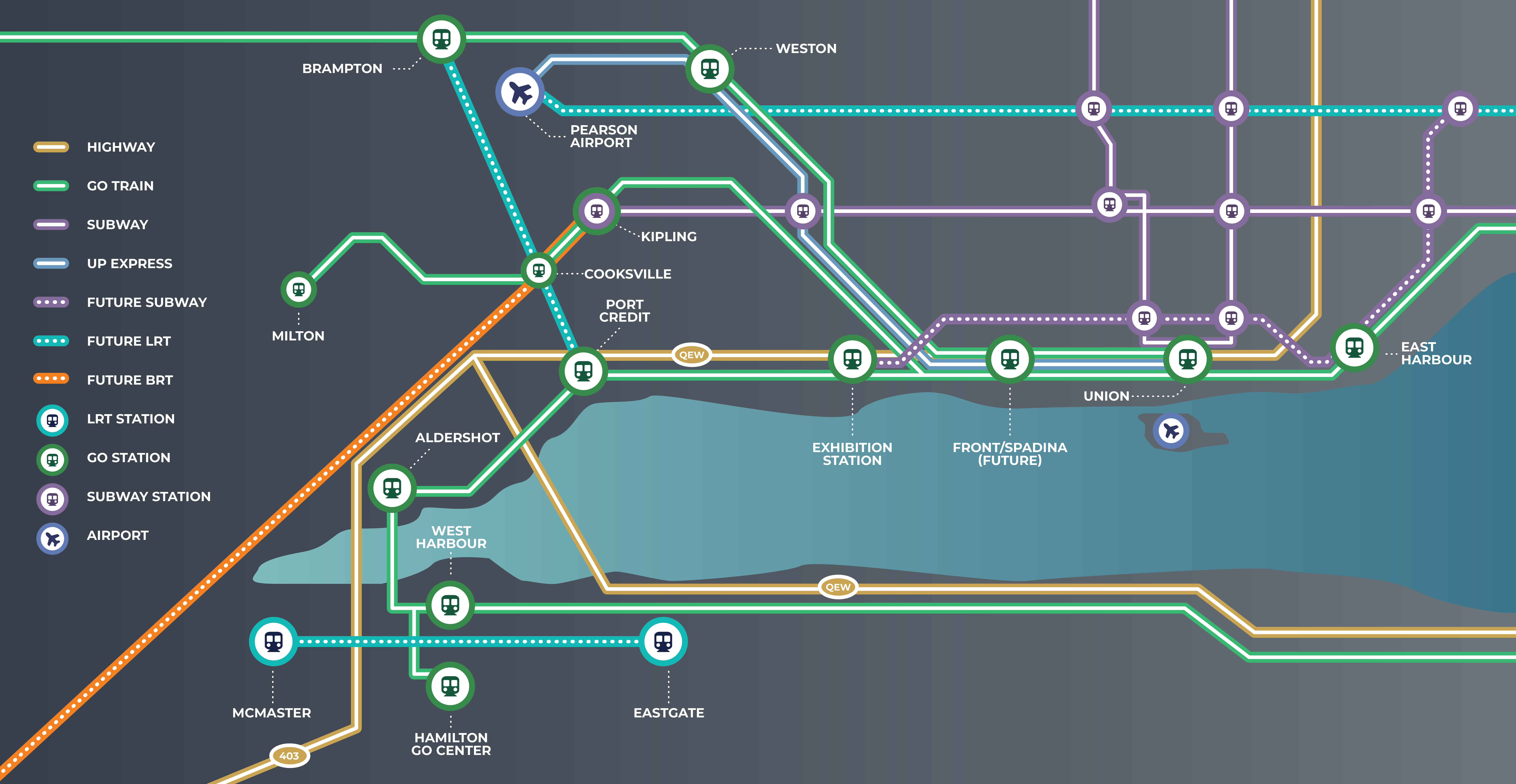 5 Minutes to Downtown Hamilton on the LRT

2 Lrt stop
50 Minutes to Ontario Place (Exhibition Station)
LRT > GO Train
1 hour to Union Station, service every 15 minutes

LRT > GO Train
600+ Kilometers of Electrified Rapid Lines
Metrolinx plans to implement an electrified GO line. This $13.5 billion investment will allow faster transport along Lakeshore West corridor with ride times reduced by 29%. As well, this expansion will increase frequency with trains arriving at stations every 15 minutes or less.
Aldershot Station's New Track Cuts 20 Minutes From Trip Times
Now complete, the new pocket track at Aldershot Station led to more robust GO service to Hamilton. The track upgrade eliminates the need for the GO Trains to reverse, reducing wait times by 20 minutes.
At 1107 Main you can commute and explore the city with convenient transportation at your doorstep

The LRT is set to play a major role in the revitalization of Hamilton's urban core. Slated to run from McMaster University to EastGate Square, it will connect Westdale to the East End and GO services.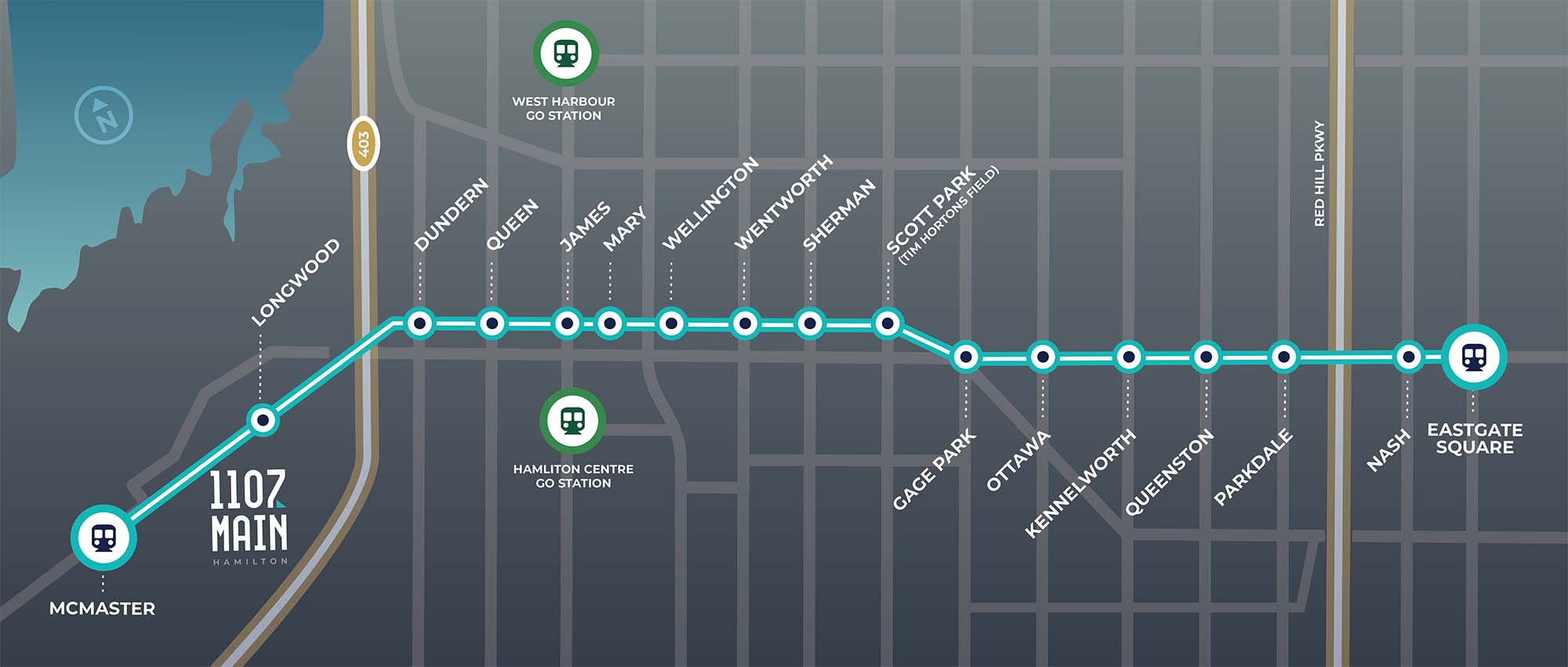 $3.4 Billion in Federal & Provincial Funding
Hamilton's LRT system was revived in May 2021, and a joint funding announcement was made by the provincial and federal governments committing $3.4B to the project. The LRT will be one of the largest infrastructure investments in the city's history. 
Construction Is Set to Start in 2024
Currently the LRT project is finalizing the procurement stage for both roadworks and rail infrastructure. Construction is planned to be underway in 2024, and approximately 7,000 jobs are expected to be created for the project.
Waterloo Region's LRT Ushers in an Economic Boom
In 2019, the Region of Waterloo's LRT system saw its first passengers take a ride on the ION. Originally the ION LRT was proposed as a solution to help reduce commuter vehicle pollution and urban sprawl while increasing investment in urban development.
4 years later, Waterloo Region is continuing to see the benefits from the LRT.
While the economy in the region continues to benefit from the new transit system, investors that got onboard early have benefited immensely.
Quick Access

to the 403 & QEW
With the Longwood Road on-ramp just 500m from 1107 Main, drivers will be on the highway in seconds

Highway
System Investment
Ontario is focusing on a variety of system improvements to Southwestern highway system. The Province has committed $3 billion in funding to highway improvements to better support for existing and future traffic needs.
This massive project will eliminate gridlock on the 401 by increasing highway capacity between Hamilton, Guelph and Waterloo Region.
Highlights:
The interchange is expected to be completed in 2025
More than 25,000 vehicles travel through Morriston daily
An estimated value of $2.2 million annually in travel time savings for commercial transportation alone.
Spanning 52km, the proposed Highway 413 is set to connect York, Peel and Halton Regions, running from the 400 near Kerby Road to the 401 near the 401/407 ETR interchange.
Highlights:
11 interchanges along the route
Expected to see 300,000 trips daily once operational

It will reduce travel times up to 30 minutes
NOW SELLING 1 & 2 BEDROOM CONDOS
Register for access to Floorplans​